The
"Fall Sessions"


The Fall Guitar Sessions with Jim Tracy will be held every Saturday,
starting in Sept
, and continuing throughout the season.  There will be twelve individual sessions in all ~ tailored to the specific needs and interests of the student.  From beginner to the professional player, Jim's teaching will help improve your skills and inspire you to attain a higher level of expertise as a musician.  Jim teaches acoustic guitar, bass guitar, dobro guitar, clawhammer banjo, as well as basic mandolin.

The lessons are all individual and each session lasts 30 minutes.  The cost is $80.00 per block of four lessons (ie $20.00 per lesson).  To enroll call Mountain Music at 315 369-6869 or e-mail us at:
          Bluegrass Banjo


Mountain Music is happy to announce that we are again offering individual Bluegrass Banjo Lessons!  The lessons are being held every Friday at Mountain Music  located at 2887 Main Street in the village of Old Forge (315) 369-6869.

The lessons are designed to teach the student the "Basic Skills" necessary to master Bluegrass Banjo.  The program is intended for beginning to intermediate level players.  The beginning level focuses on
20 sequential skills that should allow the student to learn some common banjo chords, to read tablature, to master basic rolls (see example), to learn several scales and tunings, and to learn to play a few popular basic Bluegrass tunes.  The intermediate level, while still stressing skills, focuses on specific Bluegrass tunes at a more advanced level.  In the intermediate sessions the student should master hot licks, melodic picking, more advanced tunings, as well as more about playing with other musicians.
Clawhammer Banjo:


Mountain Music is now offering  introductory lessons in Clawhammer Banjo.  The lessons are scheduled on Fridays at The Banjo Shop, 2739 Main Street here in Old Forge.  Call or e-mail us to schedule your lessons:  mtmusic@telenet.net or 315 369-6869.

The course is designed to give you the basic skills necessary to play tunes using the Clawhammer style of picking.  You will learn the basic strum (see tab>), drop thumb picking, some basic chords, and some popular "Old Time Banjo" tunes such as: Buffalo Gals,  Skip to My Lou, Pretty Betty Martin, The Red River Valley,  Cripple Creek, Old Joe Clark,  and more.  In addition you will learn how to read tablature,  learn several popular tunings for your banjo,  how to play in different keys, and how to play with other musicians.

The course is appropriate for anyone who wants to begin Clawhammer Banjo.  Here is a neat little clawhammer tune ~ Spotted Pony>
        Books & DVDs


In addition to individual lessons, we also stock a nice assortment of instructional materials including Books, DVDs, and CDs that focus on the traditional Bluegrass instruments including: 5-String Banjo, Guitar, Fiddle, Mandolin, Dobro, and Bluegrass Bass.


          (click here for more Information>)




  Workshops

Mountain Music generally offers workshops during the summer months.  Over the last few years the emphasis of the workshops has been on Acoustic Guitar.  During the summer of 2000, we held two Guitar Workshops: one led by Chris Shaw, an extremely popular Taylor Guitar presenter, and the second, conducted by Danny Gotham, an outstanding guitar player, who currently resides in Chapel Hill, North Carolina.  On June 30th, 2001 we held a workshop lead by Artie Traum.   On Sept 14th 2002 we hosted a workshop with Dan Crary!(photos)  Since we try to keep the size of the group small enough to allow lots of participation, registration is requested.  All workshops are open to anyone interested in acoustic music and are free to all participants.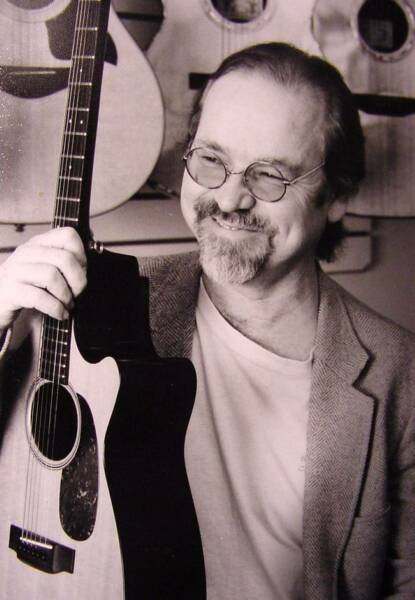 '08 Summer Guitar

Workshop with

Danny Gotham

Check out this basic tab of "Bile Them Cabbage Down" written for the person who is sitting down with a banjo in their hands for the very first time!

See the tab for

"A Pig In A Pen"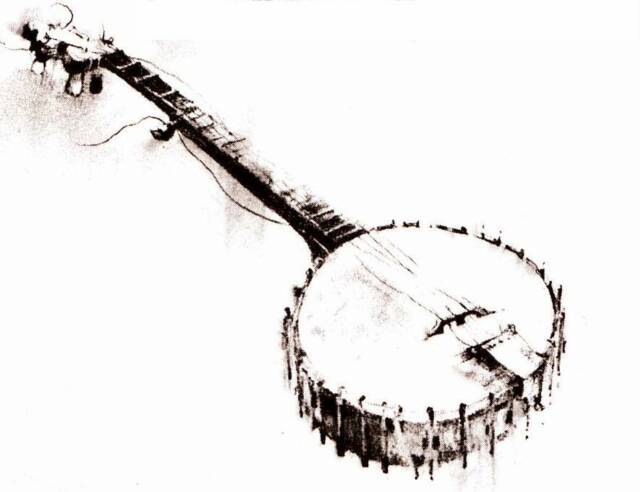 "Mist of Memory" by John Cadley with Old Tyme Banjo by played Karl Lauber.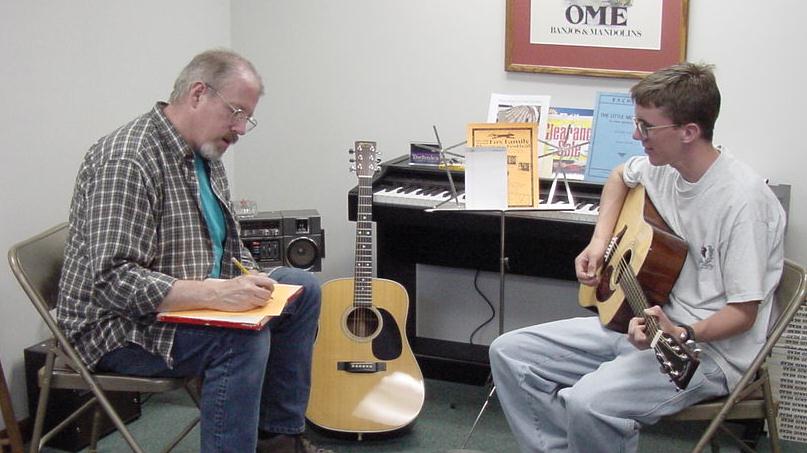 Announcement: All lessons are temporarily on hold until further notice.